About Us
Since it was founded in 1990, Soliton Laser- und Messtechnik GmbH has been able to establish numerous innovative high-tech products on the market.
We not only offer products and services in many fields of application, but can also contribute to the successful implementation of numerous projects due to our expertise in the field of high technology and experience in international trade.
Our focus as a technical sales company is in the areas of lasers, laser material processing, laser accessories, measurement technology, spectroscopy, process technology and instrumental analysis as well as quantum optics and sensors. Together with our project partners, we have been able to accompany numerous innovative projects up to the finished delivery and installation at the end customer.
Through long-term partnerships with our suppliers and service and maintenance cooperation, we ensure that the installed systems will continue to do their job successfully for many years.
The quality management system of Soliton GmbH meets the requirements of ISO:9001:2015 and is checked once a year by TÜV Süd.
Funded projects
Association project: FluRam
Development of a novel Raman-specific HPLC detector for the characterization of Raman-active analytes
Project partners: Technical University of Munich, Solectrix GmbH
Association project: MarTera-DeMarc
Construction of an inline Raman flow sensor as part of the DeMARC joint project to develop a cleaning system for removing plastic and microplastics from oceans and rivers
Project partners: IMDC nv, Fraunhofer IKTS, Multi Engineering nv, Schottel Hydro GmbH
Association project: CARS
Development of a CARS Single Cell Sorter: Function-based high-throughput cell sorting with Raman/CARS spectrometry and dielectrophoresis-coupled microfluidics
Shows
inkjet conference

"Industrial Print Integration Conference"

28. – 30.11.23 – Dusseldorf

GALA

Symposium "Experimental Fluid Mechanics"

5th-7th September 2023, Munich

LASER, World of Photonics

The world's largest trade fair for lasers and optics

06/27/2023 – 06/30/2023, Hall B2, Stand 311
ISO 9001:2015 certification
The quality management system of Soliton GmbH meets the requirements of ISO:9001:2015 and is checked once a year by TÜV Süd.
Download the ISO9001:2015 certificate in German and English: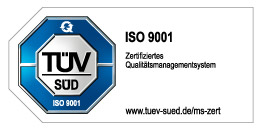 Legal
Below you will find our currently valid terms and conditions, our current imprint and the data protection declaration of our website.